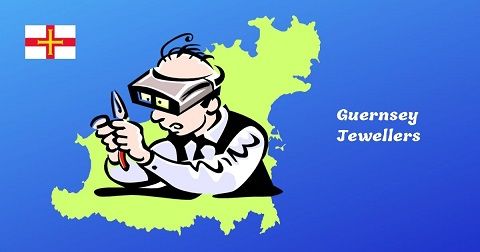 For such a small island, Guernsey has some amazing jewellers. My recommendation would be –
1 Le Pollet,
Saint Peter Port,
Guernsey,
GY1 1WQ.
Channel Islands.

01481 723707
Jewellery/Watches · Art Gallery
The article below Does Not refer to any one Guernsey Jeweller. It is just about some interesting services that a jeweller would offer.
Diamonds
Choosing the Perfect Diamond
The Shape
The shape of a diamond (round, princess, marquise, etc.) describes its form, primarily when seen from above. Each one's shape has its own qualities and beauty and the stunning variety of shapes available offers the opportunity to find the perfect stone to suit your taste.
The Carat
The carat weight of a diamond, is its weight measured in carats. One carat is divided into 100 points, so that one of 50 points weighs 0.50 carats, or half a carat.
The Cut
The cut refers not to its shape, but the reflective qualities of the symmetry and proportions in the way it is cut and polished. A good cut gives a diamond its brilliance, which is that brightness that seems to come from the very heart of the stone.
The Colour
The colour grade actually refers to the absence of colour. In other words, those that classified as white contain little or no colour and will achieve higher quality grades than those containing any visible colour.
The Clarity
Because diamonds were formed millions of years ago, most will have some natural imperfections. Those which have the fewest visible inclusions or blemishes achieve the highest clarity grades.
The Certifying Labs
Many offer diamonds supported by reports from impartial certifying laboratories.
What is a Certified Diamond?
Anyone who wants true peace of mind when buying one is recommended to buy one which has been certified by an independent laboratory, who verify the carat weight, clarity, purity and colour of it and issue it with a certificate.
These laboratories do not buy, sell or give valuations of diamonds or other gems. They are there simply to give a certificate as to the quality of those they receive. That means there would be no financial benefit for them to exaggerate their quality.
Jewellery Repairs
Many Guernsey Jewellers are a Member of the National Association of Goldsmiths.
They offer a comprehensive repair service, to ensure that your treasured items are maintained in good condition. All their work is carried out by trained and experienced craftsmen and carries their guarantee.
Among the services they offer are:
Ring sizing
Stone resetting in rings, earrings and pendants, including replacement claws and rebuilding of settings.
Chain and bracelet repairs and charm soldering.
Pearl and bead restringing.
Cleaning and polishing, which in the case of white gold and platinum items, includes rhodium plating.
If your ring is beyond repair, or you would just like the style updating, please enquire about their redesign and remounting services.
Lots offer a full watch repair service. Battery replacement and bracelet adjustments can usually be undertaken on the premises. Other services offered by their specialist team of watchmakers include:
Servicing of most makes of quartz, manual and automatic watches.
Replacement of watch glasses and winding crowns.
Resealing of water resistant models.
Engraving
Crests
Engraving
Jewellers in Guernsey have been engraving crests and logos on corporate giftware for many years, but are proud to be able to offer a new service. They can now personalise gifts with your family's coat of arms. Prices for digitising your crest start at £20.00, a one-off charge.
After that, they can engrave your crest onto a variety of gifts, including tankards, hip flasks, paperweights, compacts and glassware. It is the perfect way to create a unique gift for a special birthday or family occasion. Once they have your crest, they can keep on file for use on any future gifts.
Are you wondering what to do with your old or broken gold jewellery? It couldn't be easier to turn it into cash. They buy all types of scrap gold.
Gold rings.
Gold necklaces and earrings (in singles or pairs).
Gold chains, charms and pendants.
Gold coins.
Gold watches or watch cases.
Why hold on to gold that's broken or unloved?
Lots of people have gold rings, jewellery and other gold items at the back of a drawer or hidden away in a cabinet. The pieces may be unfashionable, unloved or broken – so it seems they're not worth anything. But they are ££££'s.
They can turn your unwanted scrap gold into hard cash, to use for the things you really enjoy: holidays, new clothes, a good night out, maybe a deposit on that new car, or perhaps money to donate to your chosen charity. Even just a few pieces of scrap gold can earn you a surprising amount.
Simply call into the shop, they will evaluate your scrap gold on the spot and give you the cash value. If you're happy with the amount all they need is a form of ID and that's that!
Jewellery Valuations
These days the security of your precious jewellery is more important than ever, and making sure that it is insured for the correct amount is the first step towards ensuring your peace of mind.
They offer a full valuation service. Your jewellery will be appraised by an experienced and accredited valuer and you will receive a comprehensive document which will be accepted by all insurers.
Prices start at a documentation fee of £10.00 plus 2% of the value stated on the document, a small price to pay to be confident that it is insured for its true worth. Prices for un-hallmarked foreign goods may vary.
A free appraisal is a verbal assessment of the value of a piece of jewellery.
This is option is ideal if:
You aren't sure whether the item warrants an Insurance valuation
You aren't sure how accurate the replacement values are on your existing valuations
You want to confirm that the level of cover you currently have for your jewellery is sufficient
Contact your local branch to make an appointment.
Insurance Valuation
This type of valuation is extremely important on expensive items of jewellery – particularly if you need to make a claim.
An insurance valuation is a comprehensive document containing a fully detailed and accurate description of each item. It also contains multiple images of the item(s) at varying angles and the current retail price of the item.
It is much harder for Insurance providers to refuse payment if you can provide a detailed, recent valuation. They recommend having your jewellery re-valued at least every 2-3 years.
Your jewellery is, of course, priceless to you. However, there may be times when you need to know its material worth, for insurance, for probate, or to sell. In any of these instances an accurate valuation is essential.
It is comforting to know that there is a valuation service you can really trust. Your valuation will be carried out on the premises by highly qualified and experienced staff and will not be sent to a third party.
Your jewellery will be assessed for purity, clarity and authenticity, taking into account any documentation you may already possess (the original receipt for instance), in order to arrive at an accurate valuation in today's market.
Repairs & Adjustments
"A thing of beauty is a joy forever" – John Keats (1775 – 1821)
.. and sometimes it requires a little attention to keep it so.
It is reassuring to know that there is a repair service that you can rely on. They use the most skilled craftsmen available who will take great care of your precious items. Not only will they minimise the time you are without your jewellery, they will even contact you when it is ready to collect. The most common comment they hear from customers is:
'It looks brand new!'
Alterations and Adjustments
Whether it's as basic as adjusting the finger size of a ring or replacing part of an item with a new design, altering a chain length and adding additional jump rings, they understand how much of a difference these little changes can make.
Whether allowing a ring to be worn again comfortably or preventing it from falling off when your hands are cold, and make a chain long enough to sit just right or allow it to be worn shorter in conjunction with longer pendants, these little changes will amount to the enjoyment of your jewellery for longer.
Re-modelling
Special Commissions & Remodelling
If you know what you are looking for but cannot find it, let them design and make that special piece for you. They will be delighted to help you create your own unique design and even incorporate your own jewellery that you no longer wear. Transferring the stones (and the value) into a new design can give unworn jewellery a new lease of life.
Custom Shaped Wedding Rings
They can produce many specially shaped and contoured wedding rings, made to fit around an engagement ring, no matter how unusual the design may be.
Some custom shaped wedding rings have 100% contact with your engagement ring.
Visit them any time to discuss design ideas, your input is most welcome and indeed, encouraged. They produce wedding rings that will befit your special day – they are unique!
Buying Diamonds & Gold
Two simple steps:
1) Call in store
2) Receive cash in your hand right there and then.
An extra 15% typically will be added to your total if scrap is part-exchanged for a new item, for a credit-note or for gift vouchers.
No piece too small or large, no obligation, free quotes.
They buy all your old Silver, Gold, Palladium or Platinum.
They offer extremely competitive prices on all precious metals, diamonds and gemstones.
They buy 9ct, 14ct, 18ct, 22ct or 24ct Gold.
Broken, damaged, scratched items will all fetch top prices including unwanted chains, rings, bracelets, cigarette boxes, gold pocket watches, wrist-watches & Gold Coins.
Please note that sellers will require proof of identification which includes a photograph.
They will also purchase coins at competitive prices, including (but not limited to): Sovereigns and Half Sovereigns
Krugerrands
Silver Coins dated pre-1920
Any other coins you can think of
Diamonds and Other Gemstones
When selling your jewellery in Guernsey, they will examine and offer a price for any gemstones which they can re-use. If you would prefer to keep your gemstones they can attempt to remove them from their settings so you can take them home with you to use in a new piece.
Below, I have listed some items that can be purchased –
For Her
Ladies Sale Jewellery
Ladies Jewellery
Ladies Earrings
Ladies Necklaces
Ladies Rings
Ladies Bracelets & Bangles
Ladies Chains
Ladies Nose Rings and Studs
Ladies Beads & Charms
Ladies Wedding Rings
Ladies Gemstone Jewellery
Ladies Engagement Rings
For Him –
Men's Sale Jewellery
Mens Jewellery
Mens Necklaces
Mens Rings
Mens Bracelets
Mens Chains
Mens Wedding Rings
Mens Nose Rings and Studs
By Occasion –
Engagement Rings
Wedding Rings & Bridal Jewellery
Anniversary Jewellery
Christening Jewellery
Birthday Jewellery
Personalised Jewellery