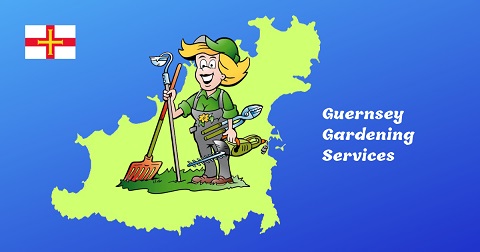 Are you looking for a qualified garden designer to provide you with a fresh pair of eyes for a stunning garden design? Or perhaps you're looking for help with a one-off gardening project or even an ongoing garden maintenance programme? Well if you are, we believe Guernsey Gardening Services can help you – and for people going away on holiday, some even have "Garden Sitting" service.
We believe your time spent in the garden should be a pleasure and we want to do whatever we can to help you enjoy your outdoor space. Whether you enjoy doing the garden yourself & just need an extra pair of hands from time to time, or whether you want to put your feet up, relax in your ideal garden and let someone else take the strain, we aim to have something for everyone.
Garden Design Service by Qualified Garden Designer
Guernsey Gardening Services is owned & managed by a qualified garden designer. This means we have the expertise to take any garden – any size, any location and develop a garden design plan which is bespoke to you, your garden, your needs & your lifestyle.
Going through a formal garden design process ensures you get the garden you want. This starts with understanding what you need from your garden, undertaking a survey of your garden, including you in the development of the design as much or as little as you require, all the way through to presenting a scale, hand drawn plan of your new garden design.
So, if you're looking for a garden designer, find out more by taking a look at our garden design service…or even better get in touch so we can discuss your requirements.
Gardening Services & Garden Maintenance
Gardening and garden maintenance – you can either love it or loathe it. Many people love managing their own garden and find gardening a way to relax, away from the stresses of work. But we also know that many more people find gardening a chore and it's the last thing you want to do after a hard day or week at work.
So, whichever camp you're in, we offer a range of gardening services & garden maintenance services to suit you in this beautiful island of Guernsey. If you love gardening, but sometimes just need an extra pair of hands – we're here to help you. Alternatively, if you want someone to come in on a regular basis & take away all the hassle for you, we can develop & agree a garden maintenance programme which is bespoke to you and suits your needs, garden & lifestyle.
Whether it's ongoing work you need doing or a one-off project, take a look at the garden maintenance service to understand more about what we can do for you, or contact us to talk about your requirements.
Garden Sitting Service
You may not need someone to come round regularly to help you with your gardening, but what about when you go away on holiday? You go away for a week – or even two, and what do you come back to? Your pots and hanging baskets have wilted, your greenhouse plants have died and the grass is knee deep!
So let us care for your garden whilst you are away, so you return relaxed from your holiday and everything in the garden is glowing. Find out more about our Garden Sitting service or contact us if you'd like to discuss how our garden sitting service may benefit you.
Guernsey Garden Maintenance
Most people want to have a great looking garden all year round, but often you find that;
With a busy life to lead, you don't have time to spend on the garden.
After a hard week at work, you just want to relax or spend time with the family.
You don't really know where to start or what to do.
You simply don't like "doing the gardening".
You just need a little extra help to get it all done.
Well, that's where Guernsey Gardening comes in!
At GGS, we appreciate that every garden is unique and that every garden owner has their own unique needs for their outdoor space. We therefore tailor our gardening service to suit you, your garden & your lifestyle. However, that's not where it ends, we aim to offer you a reliable, professional, friendly gardening service that you can trust, and in striving to deliver this, we promise you;
Reliability – if we say we will be with you for a specific time…we will be there! In the rare situation where there is an unforeseen circumstance meaning that we are running late or we have to cancel, we promise to call you to let you know and re-arrange – we won't leave you waiting.
Quality of Service – if we say we will be working on your garden for a specific period of time…we will be working for that period – you will get the work effort you are paying for. No disappearing for "supplies" in the time you're paying for, no lounging around on your time, no skiving off early! You get the service you pay for.
We aim to provide a professional, personal and friendly service whatever your garden needs, and to meet those needs we can offer a wide range of garden maintenance & gardening services.
Guernsey Garden Design Philosophy.
The design of a garden should be viewed as adding value to your lifestyle and enriching your life.
A good garden design takes the space you have and maximises it's potential, moulding it suit your needs, lifestyle and preferences. And, just as everybody's lifestyle is unique, every garden space is unique, with endless facets and characteristics needing to be considered – location, size, soil type, sun or shade. Similarly, every garden owner has a unique blend of needs and requirements of their garden. All meaning that the number of possible options is infinite.
The garden design philosophy for Guernsey Gardeners is to listen to you – the client, to fully understand your needs and garden lifestyle and bring all of this together into a garden design that is unique to you and tailored to your needs, both aesthetically and practically.
We believe our flexible approach to garden design and placing an emphasis on open communication throughout the design process is unique, with the end result being a garden that is truly suited to you, that you will love and enriches your life.
You know the scene…it's Summer time, you're going away for a week or two and you're worried about about your garden surviving without you.
You spend the day before you go moving your pots into the shade, watering everything as much as you can…but when you return, your pots have dried out, your tomatoes have withered on the vine & your hard work from earlier in the Summer has gone to waste.
Maybe you're away for longer & worried about the grass growing too long, making it obvious that you're away.
Let Guernsey Gardening Services take over whilst you're away & take away the worry!
We can meet up with you before you go away and agree what needs to be done, we then pop round as required to tend to your garden & look after your precious plants whilst you're away.
Possible Garden Sitting Services Include
Watering planters & pots.
Watering vegetable plots.
Watering inside the greenhouse.
Cutting the grass.
Watering newly planted borders.