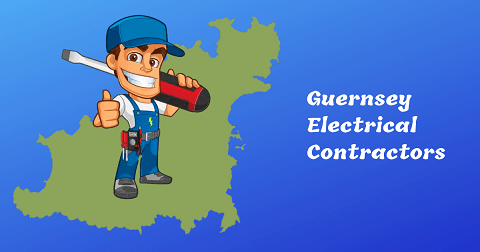 Guernsey electricians offer a range of electrical maintenance and installation services within the island. They provide full domestic services including: air conditioning, CCTV, electric entry systems, electrical design, emergency call out service, emergency lighting, extra lights, extra sockets, fault finding, fire alarm fitting and testing, full rewires fuse board upgrades / replacements, indoor lighting, installation of new appliances, maintenance, office lighting, outdoor lighting, part rewire PAT Testing (Portable Appliance Testing), periodic testing, repairs, security lighting, security systems, servicing, showers, storage heaters, underfloor heating, water heaters and wireless and automatic lighting controls.
Work within the commercial and industrial sectors includes provisions for full testing and inspection services and also a range of specialist services including: Cinema installation including maintenance of projection and sound systems and diesel generator installation and maintenance. Typical commercial applications include: shops, offices, ups systems, 3 phase supplies etc.
Domestic Services
Parnell provides a full range of domestic services for the home and offer free no obligation quotations and reductions for O.A.P's. Please call them for further information on: Shower installation, additional power socket or lighting modifications, full re-wiring, storage heater installation or security lighting.
Commercial
Guernsey electricians regularly provide electrical services for shops and offices and will be happy to offer professional advice and free quotations for modifications or complete installations. Their regular services include: Lighting and power modifications or new installations, fire alarms, emergency lighting, UPS systems and Portable Appliance testing.
They also provide a full testing and inspection service for landlords, estate agents and home owners for mortgage, surveys and insurance requirements.
Industrial
Their industrial services are typically deployed for work to warehouses, factories and farms for both installation, modification and replacement and include: three phase supplies, ventilation equipment and contract maintenance.
Specialist Services
Their range of specialist services for the commercial and industrial sectors include full testing and inspection and design of electrical engineering projects. Recent services include Cinema installation and maintenance of equipment and diesel generator servicing.
A Guide to Guernsey Electricians Costs
Electricity is used to fuel so many of our daily activities. Whether it be producing heat for cooking, powering the light supply or ensuring that we can continue to watch our favourite programmes on the television – electricity is behind so many daily activities that it is often taken for granted.
However, because it is such an important source of fuel, it is vital that they check it is managed properly and that when we need to make repairs, we are aware of how much it will cost to ensure they are done properly.
Read on to hear some tips on the types of things that may need to be repaired, and how much each one is likely to cost you.
Many people like to make improvements to their home, and this often involves new products. It is vital to ensure that these products are supported by panels and boxes that match your needs, and your system is able to cater for all of the additions that you have made.
Furthermore, if an electric panel or box is old, it might be liable to fire hazards and regular tripping. If you need to check the details of your box or panel: ask a recognised electrician to check. The average price for changing your panel / box is £100, though it depends on whether or not it can be upgraded or needs to be replaced in full.
Adding new wires / switches
If you need to amend your electrical setup to add new wires or switches, it is vital that you ask a recognised Guernsey electrician to perform the job for you. Before doing so, you need to consider how much it is going to cost you to make the required changes. Remember that an electrician charges by the hour.
Therefore it could be a good idea to wait until you have a few amendments that need to be done before hiring one. Try to price the job up before you ask them to come in; how much work will they need to do? Can they get easy access to what needs doing or will they need to take time to cut through wood, etc? Will they need to purchase a number of materials or have you bought everything that they need when they arrive?
If you can do the majority of the preparation beforehand, you will minimise the cost for yourself. Prices vary, but expect to pay around £70 an hour.
Lighting
Before hiring an electrician to make changes to your lighting, try to get a quotation. There are several factors that can raise the price you will pay. If the electrician has immediate and easy access, it is likely to lower your cost.
Chances are, the cost of the lighting is going to cost more than the labour you pay to get it done, so it may seem minimal in comparison. However, it is important to get a quotation beforehand, to ensure that the amendments are cost effective.
How does a complete re-wire of your house work?
Sometimes there are circumstances where a complete rewire of all the electrics in your house is needed.
This could be the case where the house is older and all the wiring is older, or perhaps where you want to change the layout of the house.
This can be a large job, and can involve a lot of disruption.
The wallpaper and plaster will need to come off the walls, and there will be a lot of mess to deal with for a while.
Once the rewire is complete then the plastering and decorating will need to be redone.
The best way to find a reputable electrician in Guernsey is to ask around family or friends who might have had work done. If there are developments being carried out in the area it is worth seeing who they employ on the project.
As rewiring also means finding a good plasterer and decorator it is worth seeing if the electrician that you choose has anyone that they prefer to work with. With something like plastering it is worth asking to see some previous work of whoever you choose, as plastering is a real art.
Rewiring can be an expensive job, but it is worth making sure you pay a little extra if it means getting someone who will do a good job, and who has all the necessary qualifications.
The importance of smoke and fire alarms
The simple truth is that whilst we all know fire kills, we may not appreciate that smoke inhalation is also often the cause of loss of life.
Commercial properties have to meet high standards of fire and smoke detection, to ensure that both life and property are protected and so do properties which are rented out. As yet , however, it is left to owners of private houses to fit smoke and fire detectors or not.
No right minded person would deliberately choose not to do so, but all too often it is low on the list of priorities or just ¨never got round to¨. However, early detection of smoke or fire gives those vital extra minutes to get out of a property in time.
There are two main types of detectors: ionisation units which are best for detecting fierce fires such as chip pan fires and optical units which are best for detecting slow burning fires such as furniture.
Units vary from the simplest battery run smoke detectors which alert occupants with a high pitched noise, to much more sophisticated units which transmit a message to a central monitoring service, who in turn alert the fire service. These systems will then save lives and property in the event that people have been overcome by smoke or if the premises are empty.
Finally, if you use systems which produce an open flame ( gas or coal for example) you need to fit a carbon monoxide detector as well.
If you have any doubt about what system is right for you then you should consult one of the excellent qualified electricians in Guernsey, who will advise and fit for you. Don´t forget too that poor maintenance is a major cause of fires and the same electrician will be able to check that your wiring is in a sound condition.
The importance of electrical maintenance in your home
Electrical maintenance in your home is essential not only to ensure that you do not suffer unnecessary and annoying power outages, but also to ensure that your home is as safe as possible.
Unmaintained electrics can cause fires in the home, or can be dangerous as they could give people electric shocks, which can be fatal.
Having the electrics checked once a year by a qualified electrician can save you money in the long run, and can pick up small problems that can be fixed before they become a massive issue.
Electrical checks can pick up rodent damage, which can be a real problem, and can also lead on to other ways of making your house safer. For example, if your smoke alarms are wired into the electrics it is essential that the electrics are in good order.
Electrics can be damaged accidentally more easily than most people would think, and checks can pick up these issues too.
Finding a good electrician is easy. Guernsey electricians can take care of everything for you.
It is essential that checks and repairs are carried out by a qualified electrician. Never be tempted to do this yourself.
How much is a House Rewire?
There are lots of factors for house rewires that all contribute to the total cost of a full house rewire when done by a professional NICEIC registered tradesperson.
Beginning with the consumer unit or as the older generation call them fuse boxes. The consumer unit is the part of the house where the electrical supply is split in to the different circuits. The main ones are lighting, sockets, cooker & shower circuits. All of these are protected by a mini circuit breaker. There will even be a mains switch & an RCD.
The consumer unit is a technical and time consuming item to slot in the work of an installation and should to only be tried by competent electricians. The aim of a full house rewire is to get all the fresh cables to the consumer unit & make them live.
Electrical outlets must be installed in various ways, one way lighting circuits that operate from different locations which entail various different lengths of fresh cable ran throughout the middle of the property.
This method requires in depth thought as to where best to gain access for the new outlets & in most cases requires plastering or patching up around the affected areas. In addition there is cross bonding (Earthing) to take in to consideration.
There are also extras that must be included along the way, house alarm systems, bathroom fans, shaver points, showers, central heating circuits. All the earlier mentioned must be thought about when slotting cable back to your new consumer unit.
When Do You Need an Electrical Rewire?
It's a question that you probably have never asked yourself. But if you think about it the wiring in your house is as important as the bricks that hold it together. Every household now relies on electricity to run efficiently. But having bad wiring in your house is more of a safety issue above anything else.
Dozens of properties still have extremely old cabling, sometimes old lead covered wiring needs replacing. The thing was these houses with this sort of wiring would probably have been good for another 10 or 20 years as long as the electrics weren't demanded on too heavily or altered in any way. So when is a good time to get a rewire?
Well a rewire is a big job, typically 5-7 days for a Guernsey property and a few thousand pounds in cost. So below are a few tips to ensure that your money is spent wisely.
1: Find out how old your property is. If the house is 20 years or less old, then worry not. Your wiring will be modern pvc and has a recommended life of around 25-30 years.
2: If your house is older, then look back through any documents from when you bought the house. Sometimes old installation certificates may be kept. If it's 25 years or less then your wiring should be fine.
3: Check your fuseboard. If it's the old rewireable fuses with fuse wire then consider your wiring may need replacing along with your fuse board.
4: If you have lived in your property longer than 25 yrs without a rewire then certainly consider getting it replaced.
5: You have 'problematic' electrics. Maybe it trips out or blows fuses regularly, this good be down to circuits just getting old.
6: Get it checked by a professional. Use a fully approved Guernsey electrician and ask for a full test and report. This will include a visual check of your electrics and a 2 hour long test using select instruments that will give you an accurate read out about the state of your wiring. This test is relatively inexpensive and can save you a lot of money in the future.
Whatever you decide to do, a professionals opinion is key and should always be obtained whether you decide to have a rewire or not.